Once you've set your heart on Curaçao as the destination for your next Caribbean vacation, it's time to start creating that perfect itinerary to get the most out of your vacation.
Curaçao has a wide array of activities you can enjoy. From adrenaline-rushing adventure to more easy-going activities, you can be sure there's something for everyone.
Read on as we break down our top 10 favorite Curaçao Activities. The best part? When you book your stay at LionsDive, our team can help you book all the activities!
1. Kick-off your stay with adrenaline-fueled activities
Curaçao Activities offers many different adrenaline awakening tours ranging from Jeep Tours, UTV Tours, Off-road Tours, Boat Tours, and even Bus Tours for those seeking a bit more of a slow-paced activity.
Explore the western side of the island and see all the beautiful beaches or take a tour on the eastern side of the island where there are many caves to explore in your own UTV. There are different experiences to choose from, but one thing is for sure: You'll have a blast!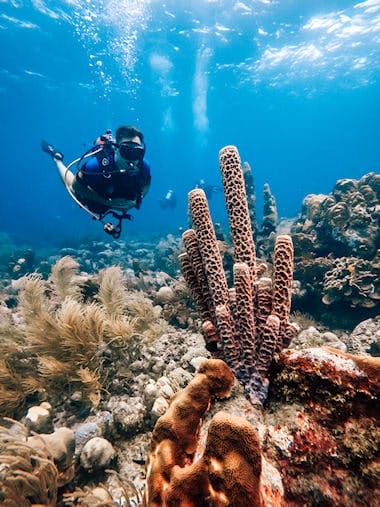 2. Explore Curaçao below the surface
Dive enthusiast or beginner diver? Not a diver at all, but love snorkeling? Ocean Encounters has got you covered!
Ocean Encounters is conveniently located at LionsDive Beach Resort where you can hop on a boat and go for an amazing boat dive or stay close to shore where you can experience an introductory dive.
There's a wide array of dive- and snorkel activities you can choose from, from beginner to intermediate. Challenge yourself while experiencing Curaçao's underwater beauty.
3. Splash around with Dolphins!
At Dolphin Academy, you can immerse yourself in the water alongside your new dolphin friends! Choose for a Dolphin Scuba Encounter if you're an experienced diver or go for a Dolphin Swim in the natural lagoons where you can experience firsthand how the dolphins are cared for on a daily basis.
An incredible and surely memorable experience!
4. Discover the bounty island: Klein Curaçao!
For this experience, make sure you plan a full day in your itinerary. Time to hop on a boat with Blue Finn and visit Klein Curaçao.
Blue Finn offers a full day trip to Klein Curaçao on one of their different boats ranging from a catamaran, motor yacht, or sportsman yacht. It all depends on the kind of adventure you would like! This day tour includes food and beverage and even snorkel equipment so you can explore the beautiful untouched waters on this uninhabited island.
5. Give yourself time to relax
After long days of exploring the island, you deserve to give yourself the time to relax. The Spa at LionsDive is the perfect place to unwind.
Relax your muscles and your mind by booking one of our signature treatments that can be personalized just for you. Have your massage with a beach view at the beach gazebo or choose to indulge in other treatments such as facials, scrubs and more.
6. Let's get drinks!
You might have heard about the famous Blue Curaçao liquor. Here's your chance to experience how it's made firsthand!
Plan a visit to Landhuis Chobolobo, where you can tour the distillery while simultaneously taking a journey through the history of Curaçao.
At the end of this great tour, try your hand at making your own cocktail using Blue Curaçao liquor.
7. Make your own: Curaçao's most popular souvenir
For years, the "Chichi" has been the most popular souvenir that tourists will take home to their loved ones or for themselves as a memory of their Curaçao visit.
During the Chichi workshop, you can paint your very own Chichi with a unique pattern or design. A visit to Serena's Art Factory is definitely a must if you're an art lover.
8. Go hiking and see the views from Curaçao's highest point
Curacao's highest point is Christoffel Mountain, peaking at 372 meters above the ground. When visiting Christoffel Park you can choose to hike the grounds for a beginner-level experience or you can challenge yourself and go all the way for a Christoffel Mountain climb.
Should you choose to hike the mountain, we would suggest going in the early morning hours to avoid the direct sunlight and heat, as the temperatures can rise quite a bit.
Extra tip: don't forget your water!
9. Discover Curaçao's culture and history
Visit the Kura Hulanda Museum and learn all about the predominant cultures of Curaçao. Discover a world-class chronicle of the origin of Man, West African Empires, Mesopotamian relics, the African slave trade, and some local and Antillean art.
Ask for a map of the museum and take yourself on an adventure through the history of Curaçao. You can also opt for a guided tour, for which reservations are required. The tour can be given in 4 languages (Papiamentu – our local dialect, Dutch, English and Spanish).
10. Wander the caves of Curaçao
Just a 4-minute drive from the airport, you will find the Curaçao Hato Cave which is the biggest and most prominent and well-known cave on the island.
To get into this beautiful cave, you'll first have to walk up 49 steps to get to the entrance. Once inside, you will find a walkway created by the local government to make the cave accessible by foot.
There's also an Indian Trail, where you can get acquainted with Curaçao's flora and fauna and you can even spot Indian petroglyphs in the rocks which are estimated to be at least 1500 years old!
Ready, set, go!
Now that you know our top 10 favorite Curaçao activities, you can start planning your vacation and be sure to experience all the best that the island has to offer.