If you are planning a Curaçao beach vacation to the beautiful Caribbean paradise, lucky you! You are in for a real treat. Whether you are dreaming of long lazy days on the beach, family-friendly fun, or getting acquainted with the island's great hiking trails, there is no doubt Curaçao will impress. However, before you get carried away and start planning your day-to-day itinerary, you will need to find a place to stay – a place where you can make the most of island life. 
Well, look no further than LionsDive Beach Resort. With its perfect location, brilliant facilities, and staff ready to give you a warm Caribbean welcome, you will soon feel right at home. However, if you are still on the fence about booking, let's look at some ways LionsDive sets itself apart from the rest of the resorts on the island. Here are 6 Tips for making sure you plan the perfect Curaçao beach vacation:
1. Choose a Beach with Plenty of Sun and Shade
Regardless of your motivations for traveling to Curaçao, there is no doubt you will want to spend some time on the beach enjoying the great Caribbean weather and those warm azure seas. At LionsDive, you will be perfectly placed with access to a private beach right on-site. Being our guest, you'll take advantage of the beach beds and towel service. When the sun gets to be too much, you can retreat to a shady spot beneath the palm trees or one of the beach huts. 
2. Balance Rest and Relaxation with Lively Experiences
However, being right on the tranquil beach does not mean life has to be quiet and boring. You are, in fact, just a stone's throw away from the famous Mambo Beach Boulevard. So within minutes, you can be in the thick of the action. With some of Curaçao's best restaurants as well as plenty of vibey bars and great shops, at LionsDive, you get to enjoy the perfect balance between peaceful, calm, and lively experiences.

3. Enjoy a Combination of Pool and Ocean
We know that swimming in the ocean is not for everyone. That's why at LionsDive, you have the chance to enjoy a unique and athletic 50-meter swimming pool. Whether you want to have fun splashing around with the kids or need to get your daily workout in, you will have access to a pool that can accommodate various requirements.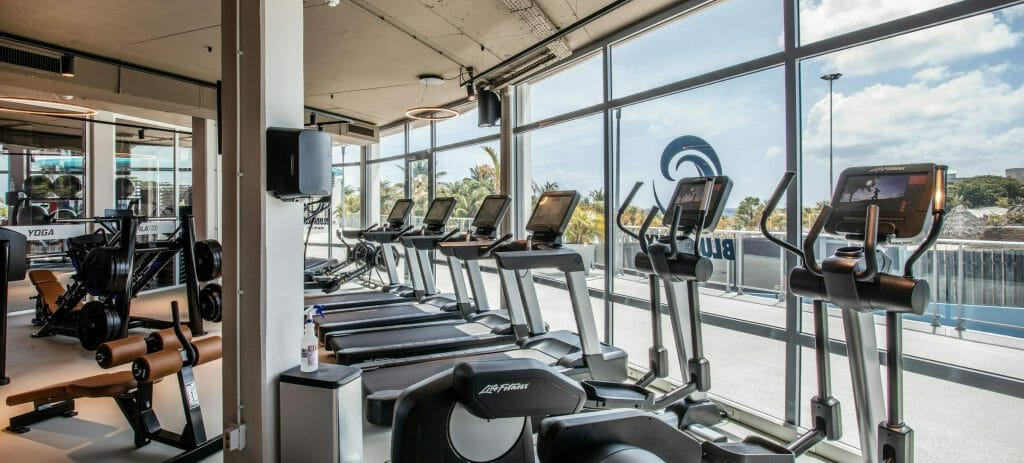 4. Keep your Fitness Routine in Mind with Access to a First Class Gym and Spa
Speaking of workouts, if swimming is not quite your thing, you can opt to hit the state-of-the-art gym where you can get your sweat on while pumping iron. Then when all of that exercise takes its toll, you can head down to the Spa at LionsDive for a relaxing massage or rejuvenating beauty treatment. You will certainly leave feeling refreshed and full of life. 
After a busy day of sightseeing or simply sunning yourself on the beach, it is only natural for you to have worked up quite an appetite. When hunger strikes, LionsDive is the place to be. With a whopping four delectable restaurants to choose from, you will truly be spoilt for choice when it comes to mealtimes. If you feel like a change of scenery, you can take a walk down to Mambo Beach Boulevard, where you will have access to an even broader array of cuisines and dining options. 
Finally, when it comes to putting your head down on the pillow and getting a good night's sleep LionsDive has you covered. Whether you just need a standard room, a self-catering apartment, or a luxurious suite, or you want to push the boat out and go for the penthouse, there is an accommodation option to suit everyone's requirements, preferences, and budget. 
With all of this in mind, making LionsDive your home away from home in Curaçao is a no-brainer, so what are you waiting for? Book your stay today. A warm Caribbean welcome awaits.