On our Dutch Caribbean Island of Curacao, there are over 38 world class beaches to discover that offer a wide-range of services and experiences from exploring local hidden gems, snorkeling and scuba diving, to just floating in decadence while sipping on a tropical beverage.
At LionsDive Beach Resort, we appreciate that the task of narrowing down these vast choices might seem overwhelming, but no worries because we will get you started here with the top 10 Beaches of Curaçao chosen by critics, travelers and beachgoers alike. 
1. Mambo Beach Boulevard – Mambo Beach itself is reason enough to visit and you'll soon understand why it's one of the most popular spots on the island. LionsDive Beach Resort with its beautiful white sands is a truly picturesque place to spend your days. Whether you're excited about spending days on the sun lounger or take advantage of many watersports opportunities on offer at Ocean Encounters, Mambo Beach caters for everyone. The beach's wave breakers have created a luscious tropical lagoon which makes Mambo Beach perfectly safe for the kids too! Click Here to dive into the Top 5 Reasons to Visit Mambo Beach, Curaçao.
2. Kenepa Plantation – The Kenepa Plantation consists of Kenepa Grandi (Grote Knip) and Kenepa Chiki (Klein Knip) and these two are arguably the most popular beaches on Curaçao that are regularly visited by both tourists and locals. This is largely due to the beautiful natural surroundings and the intensely vivid turquoise water that entices you to immerse yourself in the warmth of the Caribbean Sea.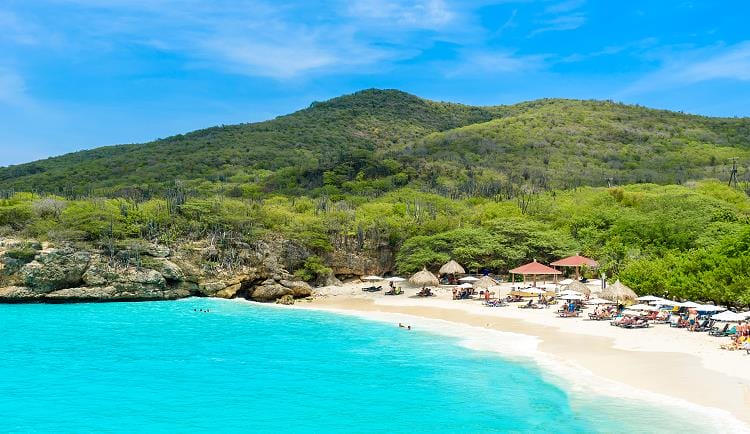 3. Cas Abao – also spelled Cas Abou, Forbes Magazine rated this as one of the Best Caribbean Beaches and wrote: "With its clear turquoise water, waving palm trees and white sandy beach, Cas Abao is a true paradise. Located at the northwest coast of Curaçao, the beach is an ideal spot for shore diving, snorkeling, and swimming because of the spectacular shallows leading to the healthy fringing reef."
4. Playa Kalki – Playa Kalki is a small, adorable beach on the west end of the island, that not every tourist knows about. In combination with its house reef, Alice in Wonderland, this beach has been rated as one of the top 10 scuba diving and snorkeling locations on Curaçao. This is largely due to the shielding provided by the surrounding hills of Westpunt that creates almost perfect year round conditions.
5. Porto Mari – Located inside the historic Plantation PortoMari is one of Curacao's more beautiful fully equipped beaches which is about an eight-minute drive from Willibrordus church. The Valley at Playa Porto Mari (also called Porto Marie) is not only unique and diverse, it is also considered one of the top 10 sites on Curacao.
6. Klein Curacao – Klein Curaçao is deserted island and a nature reserve where you can't do much else than laze on a long sandy beach, snorkel or scuba dive with sea turtles and tropical fish and explore the island by taking a walk to a shipwreck and the abandoned lighthouse.
7. Tugboat Beach – This famous Curaçao Tugboat wreck is located at Tugboat Beach in Caracasbaai next to Directors Bay. In just 5 meters (15ft) of water below the steep facing cliffside leading up to the infamous Quarantine House you will find the purposely wrecked Tugboat just a few yards offshore. This site is absolutely perfect for an afternoon dive or snorkel trip.
8. Director's Bay – Director's Bay is a perfect sustainable tourism example and LionsDive Beach Resort is proud to sponsor the hard work of Coral Restoration Curaçao that chose this site as an out-planting location because it offers much-needed protection for the coral structures and a regular flow of nutrients. Directors Bay is also an historic Curaçao landmark, located between the famous Tugboat wreck and Small Wall – well suited for divers, snorkelers and beach goers alike.
9. Playa Jeremi – Playa Jermi is a small public beach that offers a real escape from the public because of its secluded nature. It is recommended to visit this narrow, picturesque cove late in the day so that you can linger to watch the incredible sunset which is the ideal time where you can fully appreciate the exceptionally clear turquoise water without minding the lack of shade.
10. San Juan Plantation – The main draw of the San Juan area are the beautiful and undeveloped beaches that exist on the fringes of the plantations coastline. Although many sources only refer to three beaches, there are in fact four in total. From west to east these include a small cove called Playa San Juan Chiki, then the known beaches of Manzaliña, Shon Mosa, and Largu. Please note, the road leading to the beaches is rough therefore it is not advised for smaller cars.